Pitfall Harry's
Lost Video Game Cavern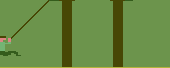 Hello. Pitfall Harry here. I'm glad you could join me on this, my latest adventure. Just how long has it been? Ahhh, yes! Now I remember. It was way, way back in 1984. You were one of the bold adventurers with whom I had the honor of exploring the mysterious Lost Caverns of Machu Pichu. As I recall, it was your cunning and deft hand which guided me safely through countless perils. Together we skirted poisonous frogs, vampire bats and the dreaded Peruvian condor in our successful quest for gold and other lost treasures. You were the best. My hat is off to you!



It really has been a long time. Atari itself, that once mighty videogame empire, has crumbled into ruin since last we met. It's as astonishing as it is sad. Did you fear that, like Atari, I too may have finally met my match? Hardly. The truth is: Atari did not, will not and cannot die. Ever. And neither shall Pitfall Harry. The classics will live on! As long as there are people like you who yearn to explore the rich heritage of classic videogames; as long as there are those who understand that megahertz and graphic fluff are hollow substitutes for innovation and gameplay; as long as there are people like you to keep the spirit of classic videogaming adventure burning bright, Pitfall Harry shall never perish!

I have kept myself busy all these years exploring the most mysterious abyss of all, cyberspace. My journeys have led me here to this tiny, but cozy little cavern. Come on in and explore! I am honored to have you accompany me once again. If you should stumble upon my guestbook, please take a moment to sign in.
---
Pitfall Harry's "Mystery of the Map" Videogame Contest
...officially ended 11 July 2002.




Congratulations to the winners:


First Prize Winner - Jeff Arensmeyer
Second Prize Winner - Thomas Jentzsch
Third Prize Winner - Scott Anderson

---
| | | | | |
| --- | --- | --- | --- | --- |
| | | Awards | | |

Featured Items of this Site
A trivia quiz with a few pitfalls of its own.
A list of the video game cartridges in my collection. Includes many scans.
Worth a look.
Game maps to Pitfall!, Pitfall II: Lost Caverns and more.
A few articles I have written about classic video gaming.
Read the instructions to the greatest Atari 2600 video game ever made!
Instructions for the original Atari 2600 Pitfall!
The comic strip inspired by David Crane's Pitfall!
Videogame advertisements for Pitfall! and Pitfall II: Lost Caverns
The board game by Milton Bradley, based on Pitfall!, the videogame.

A picture of my daughter
---
Links to other videogame sites


Pitfall Harry's Monkey, Link
The premiere website for information on all Atari videogame platforms and much, much more.
The Newsletter for the Retro Gamer in All of Us
Andrew Krieg's lists of classic game cartridges
Rick has the LARGEST Atari 2600 collection of anyone I know. Just take a look...
Curiosities & Diversions by Room 34
You are intrepid explorer number
...since the counter last reset.


---
Comments please
Or

E-mail to
---